Originally writter for FILM RADAR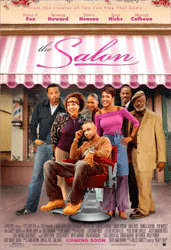 Sometimes a movie just doesn't need a plot. THE SALON, director Mark Brown's (the BARBERSHOP movies) third voyage into the world of cosmetic artists puts together an extremely watchable ensemble cast of characters that could turn into a sleeper success.
Vivica A. Fox stars as Jenny, owner of a local salon in Baltimore. Under public domain laws, the DWP is acquiring her salon to level it for a parking lot. She's been given a generous offer to give up the salon that has been in her family for generations. While Jenny mulls her decision, we get to take peek into the lives of her staff. The ensemble cast of coiffeurs and patrons begin waxing on in a series of tete-a-tetes. Topics include spanking, a defense of golddigging and gay civil rights. Each of the stylists lives are evolving on this given day. Old baggage is being dealt with and some new hitches are discovered. Jenny is attempting to decide on whether to fight for the shop or sell out. It becomes slightly more complicated when she falls for the lawyer representing the enemy.
The plot of the film, based on Shelley Garrett's play Beauty Shop, leaves something to be desired. It's more of a framework for a Saroyan-esque day in the life of the Salon. Fortunately, the collection (Fox included) of cutters, braiders and weavers have an excellent chemistry. At first glance, we have seen some these folks before: the gay hairdresser (De'Angelo K. Wilson), the player (Dondre Whitfield), the Sass (Kym Whitley) and the woman caught in an abusive relationship (Monica Calhoun). As the film evolves, we get to see an inner depth to each of the characters. In particular, Wilson eventually strips away the queen to reveal the deeper man in his soul. Monica Calhoun gives a subtle, internalized performance that cuts right to the heart.
Garrett Morris is hysterical as "Percy" the resident dirty old man. Why Morris doesn't get more work is beyond me. Note to Hollywood: HIRE THIS GUY MORE OFTEN!! He is having a ball and it's impossible not to join the party.
With such a strong cast, if even one actor is not up to snuff, it glares. Brooke Burke looks downright uncomfortable as the rich white girl who gets her locks styled in the hood. Darin Dewitt Henson's DWP Lawyer with a heart of gold seems one note and hollow.
The conversations and arguments of the stylists are the heart and soul of the movie. The flick strays when \he focus switches to its paper thin plot. I found myself anxious to get back into the gossip and dirt back at the shop.
At its core, THE SALON is a good hearted character comedy. Give Mom a gift certificate for THE SALON this Mother's Day.

TrackBack URI for this entry
Comments
(0)


Subscribe to this comment's feed
Write comment